Symantec NetBackup for VMware provides backup and restore of the VMware virtual machines that run on VMware ESXi servers. NetBackup for VMware takes advantage of VMware vStorage APIs for data protection. The backup process is off-loaded from the ESXi server to a VMware backup host.
NetBackup 7.6 for VMware does the following:
Performs off-host backup of virtual machines (NetBackup client software is not required on the virtual machine) - VADP integration
Automatically creates quiesced snapshots using VSS (Windows only). Creates the quiesced snapshots on Linux if the SYMCquiesce utility is installed
Performs full backups and incremental backups, including block-level incrementals
Backs up the virtual machines even when they are turned off
Data deduplication.
Application Protection (Exchange, SQL, SharePoint)

Symantec NetBackup supports recovery of database data that resides in the virtual machine. Options shown below apply to full backups of the virtual machine; they do not apply to incremental backups.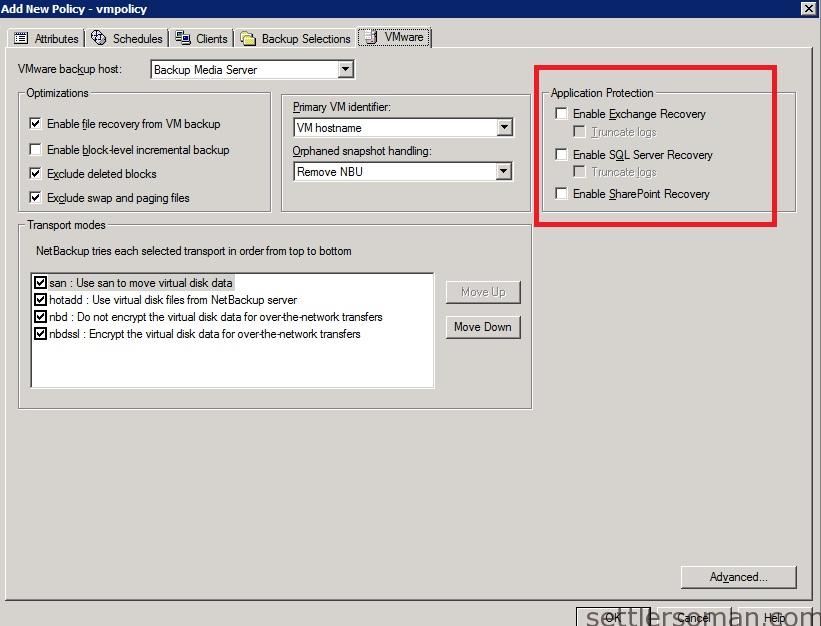 Enable Exchange Recovery - This option enables recovery of the Exchange databases or mailbox messages from the virtual machine backups. If this option is disabled, you can recover the entire virtual machine from the backup.
Enable SQL Server Recovery - This option enables recovery of individual files from Microsoft SQL data in the virtual machine backup.
Enable SharePoint Recovery - This option enables recovery of SharePoint objects from the virtual machine backup.
Virtual Machine Inteligent Policies
Main features:
VM configuration detected using query rules
Detection happens at each job run time
VMs matching query rules are backed up
"Test Query" feature ensures proper VM detection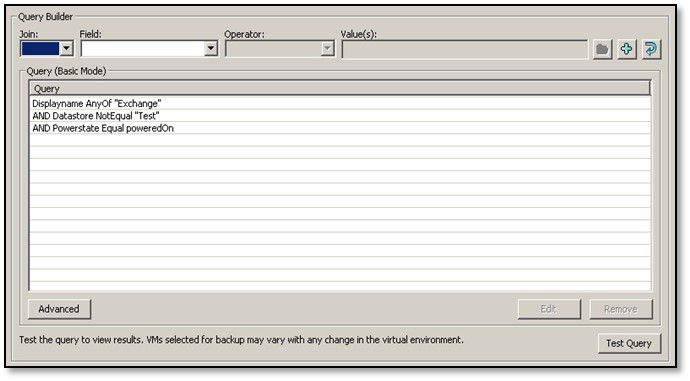 This is a nice feature, often used by my customers - it is easy to backup new VMs automatically. How to use this feature to protect VMware VMs is covered in a dedicated post.
NetBackup Accelerator for VMware
Improves full backup performance by only transferring changed blocks from VM snapshot and NetBackup Media Server combines changed blocks with previous backup to create synthetic full. For more information please follow a post about NetBackup Accelerator for VMware.
NetBackup Instant Recovery for VMware (IRV)
Access to the data on the virtual machine BEFORE the restore of the VM is performed (you can enable the VM directly from a backup image resident on NetBackup disk storage). For more information please follow a post about NetBackup IRV.
Block-level Incremental Backups (BLIB) 
Transfering only changed block since the previous backup. NetBackup uses VMware Change Block Tracking (CBT).
VMware vSphere Plugin
Symantec NetBackup offers NetBackup plugin for vSphere. VMware Administrators can check VMware Machine Backup status and restore capability. This is a appliance (deployed as OVF).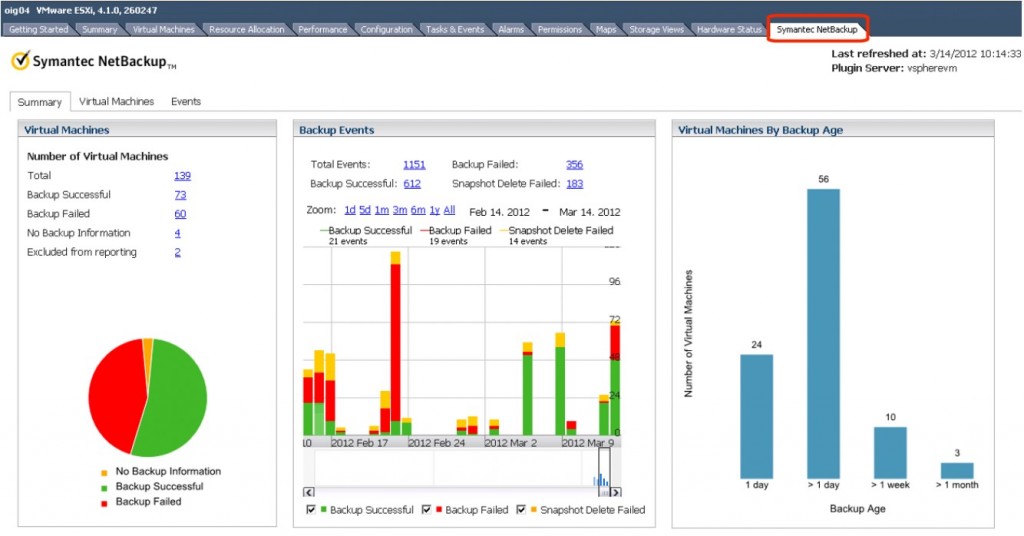 Please follow other post How to install and configure the plugin.
Note: For more information about Symantec NetBackup for VMware, please follow Admin Guide for NetBackup 7.6 available here.