Zerto Virtual Replication provides a business continuity (BC) and disaster recovery (DR) solution in a virtual environment. This is a competitor of VMware Site Recovery Manager and EMC Recover Point for Virtual Machines.
Some main features:
Recovery Point Objective (RPO) – seconds. (async replication available)
Zerto Virtual Replication is storage-agnostic. Any storage supported by VMware (including FC, FCoE, iSCSI, NAS, and DAS) is supported by Zerto.
Orchestration of DR workflows, including test, failover and failback of a single VM or VMs group
Zerto can replicate source RDMs (Raw Device Mappings) to target VMDKs and source
VMDKs to target RDMs.
WAN bandwidth consumption optimization
Zerto does not uses snapshots
Zerto Virtual Replication comprises the following components: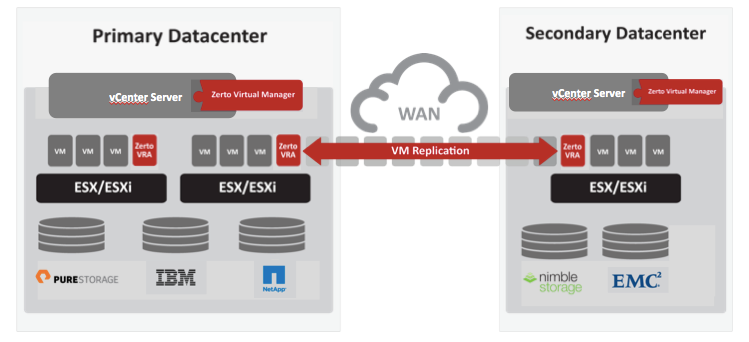 Zerto Virtual Manager (ZVM) – A Windows service, which manages everything required for the replication between the protection and recovery sites, except for the actual replication of data.
Virtual Replication Appliance (VRA) – A virtual machine installed on each ESX/ESXi hosting virtual machines to be protected or recovered, to manage the replication of data from protected virtual machines to the recovery site.
Zerto vSphere Client console plug-in – A plug-in in the vSphere Client console that enables managing recovery using Zerto Virtual Replication from the console.
Zerto GUI – Recovery using Zerto Virtual Replication is managed via a user interface, Zerto DR Management UI, vSphere Client console or vSphere Web Client.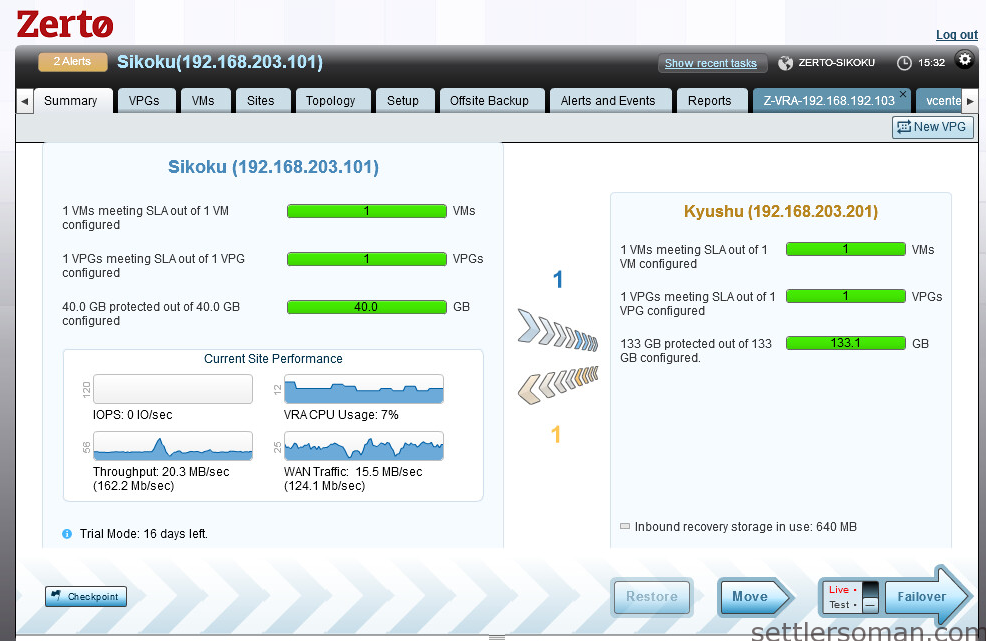 Two paires sites (Sikoku and Kyushu)
Update: Zerto 4.0 introduced some cool features and totally new UI based on HTML 5!