In this article we discuss overview of VMware solution for Business Continuity and Disaster Recovery virtualized environment - Site Recovery Manager (SRM). SRM helps administrators to plan, test, and run the recovery of virtual machines between a protected vCenter Server site and a recovery vCenter Server site in case primary site (protected) goes down.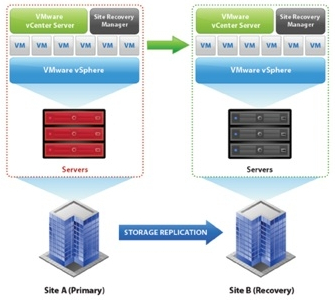 SRM is an example of orchestrator like another DR products mentioned in another articles: Zerto Replication Manager or EMC Recover Point for Virtual Machines. What is orchestrator? This is a solution which lets you define steps to recovery virtual machines in diffrent location (data center, server room etc). Main SRM features are as follow:
Create and manage recovery plans making DR faster and simpler

Reconfigure IP addresses upon failover at the subnet or individual address level

Execute user-defined scripts and pauses during recovery

Pre-define the boot sequence of virtual machines for automated recovery

Testing recovery using snapshots technology and dedicated/isolated network
Bidrectional Protection - Each site can simultaneously be a protected site and a recovery site, but for a different set of virtual machines.
How does SRM do Disaster Recovery simpler and faster? At first you can create Disaster Recovery plan which generally does as following:
At the protected site, Site Recovery Manager shuts down virtual machines cleanly and synchronizes storage, if the protected site is still running.
Site Recovery Manager powers on the replicated virtual machines at the recovery site according to a recovery plan
You can run the Disaster Recovery Plan during:
Planned Migration - it prevents data loss when migrating workloads in an orderly fashion. For planned migration to succeed, both sites must be running and fully functioning. (e.g. in case site maintenance)
Disaster Recovery - similar to Planned Migration but both sites does not have to be running. (e.g. in case fire)
To be able to failover virtual machines between sites, we need to configure replication between protected and recovery site. The protection can be done using:
Array-based replication
vSphere Replication
Combination array-based and vSphere replication.
When you use array-based replication, one or more storage arrays at the protected site replicate data to peer arrays at the recovery site. With storage replication adapters (SRAs), you can integrate Site Recovery Manager with a wide variety of arrays. An SRA is a program that an array vendor provides that enables Site Recovery Manager to work with a specific kind of array. To use array-based replication with Site Recovery Manager, you must configure replication first before you can configure Site Recovery Manager to use it.
vSphere Replication does not require storage arrays. The vSphere Replication storage replication source and target can be any storage device, including, but not limited to, storage arrays.I have never seen in production a combination of array-based replication and vSphere Replication. However, as mentioned earlier, this is also possible and supported configuration.
You can configure vSphere Replication to regularly create and retain snapshots of protected virtual machines on the recovery site. Taking multiple point-in-time (PIT) snapshots of virtual machines allows you to retain more than one replica of a virtual machine on the recovery site. Each snapshot reflects the state of the virtual machine at a certain point in time. You can select which snapshot to recover when you use vSphere Replication to perform a recovery.
Site Recovery Manager Components
Depends on type of replication, the required components to implement SRM are as follow:
Main components:
Two SRM servers - one in each site,
Two vCenter servers with DBs in each site - one in each site
Two SRM DBs - one in each site
SRM plug-in - added to vSphere Client or since SRM 5.8 integrated only with Web Client
and also when array-based replication is used:
SRA plugin installed in vCenter server in each site
The same storage vendor in each site
in case when vSphere Replication is used:
vSphere Replication (VR) appliance in each site
vSphere Replication agents installed on each ESXi hosts (in each site)
Site Recovery Manager Requirements
To install and correctly configure SRM, the following Sphere configurations at each site must be ensured:
The same version of Site Recovery Manager on both sites
The same version of vCenter Server on both sites
The version of vCenter Server must be compatible with the version of Site Recovery Manager. Ex. SRM 5.8 does not support vCenter 5.0 and 5.1.

In case of using array-based replication, the same replication technology must be available at both sites, and the arrays must be paired. In case of using vSphere Replication, it's required a vSphere Replication appliance on both sites. The vSphere Replication appliances must be connected to each other and be the same version.
Protection Groups
A protection group is a collection of virtual machines that Site Recovery Manager protects together.You can include one or more protection groups in a recovery plan. A recovery plan specifies how Site Recovery Manager recovers the virtual machines in the protection groups that it contains. After you create a protection group, Site Recovery Manager creates placeholder virtual machines on the recovery site and applies the inventory mappings to each virtual machine in the group.
Inventory Mappings
Inventory mappings provide a convenient way to specify how Site Recovery Manager maps virtual machine resources (datacenter, cluster, folder, network etc.) at the protected site to resources at the recovery site. Site Recovery Manager applies these mappings to all members of a protection group when you create the group. You can reapply mappings whenever necessary, for example when you add new members to a group.
Recovery reprotect and failback

After a recovery, the recovery site becomes the new protected site, but it is not protected yet. If the original protected site is operational, you can reverse the direction of protection (reprotect) to use the original protected site as a new recovery site to protect the new protected site. If you want to come back to original primary site, you can run then recovery again (failback).
Site Recovery Manager 5.8 - what's new
VMware vCenter Site Recovery Manager 5.8 provides the following new features:
Integration of the Site Recovery Manager UI in vSphere Web Client.
vCenter Orchestrator plug-in for Site Recovery Manager - it allows to automate SRM operations
Subnet-level IP customization rules that allow you to manage the customization of IP addresses across multiple virtual machines from the Site Recovery Manager UI
An optional embedded vPostgreSQL database that you can use instead of a dedicated external database with minimal configuration.
Improved support for Integrated Windows Authentication when using Microsoft SQL Server as the Site Recovery Manager database.