The below diagram provides integration of vSphere components (vCAC, vCO, NSX, APPD):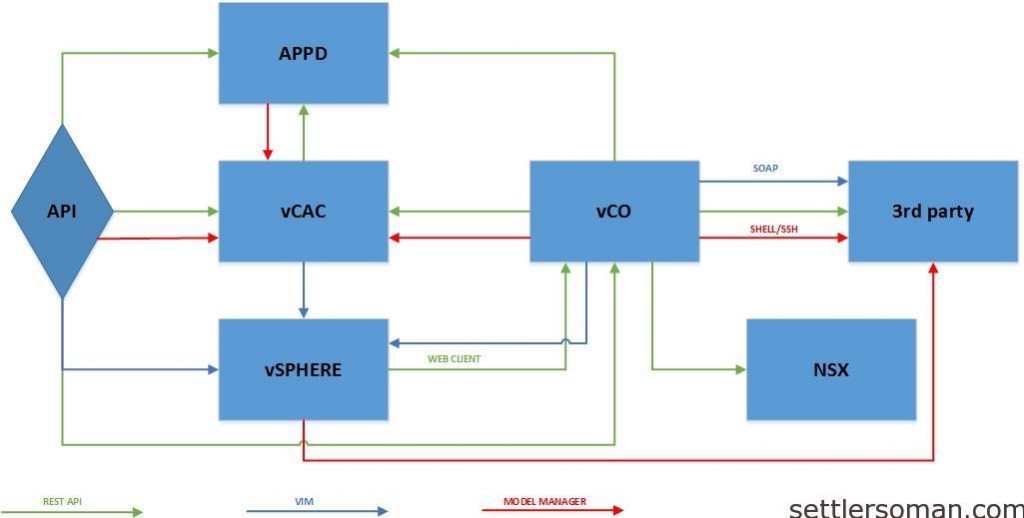 APPD - vCloud Application Director automates application provisioning in the cloud including deploying, configuring, and updating the application's components and dependent middleware platform services on infrastructure clouds.
vCAC - vCloud Automation Center provides a secure portal where authorized administrators, developers or business users can reqest new IT services and manage specific cloud and IT resources, while ensuring compliance with business policies. Requests for IT service, including infrastructure, applications, desktops, and many others, are processed through a common service catalog to provide a consistent user experience.
vCO - vCenter Orchestrator
NSX - is the network virtualization and security platform for the software-defined data center.
REST API - Representational state transfer is an architectural style consisting of a coordinated set of architectural constraints applied to components, connectors, and data elements, within a distributed hypermedia system.
VIM - VMware VIM protocol