In this article I will describe NetApp Flash Accel which makes server-side flash storage available as cache for applications that read from and write to NetApp back-end storage. In a Flash Accel-enabled system, applications write to cache as well as to back-end storage, so that future application reads can be serviced locally from cache. Flash Accel software runs on VMware ESXi hosts and virtual machines.
Flash Accel key features:
Data coherency -

when a backend storage system changes data, it has coherency implications on the server cache. 

Persistent cache -

t

he cache is kept "warm" after a reboot. It remains populated with data from typical read and write activity. Simply put w

hen a VM or server is rebooted, Flash Accel keeps its cache warm and checks / corrects for coherency once the VM or server comes back online.




VMware vSphere support (HA, vMotion, DRS, Storage vMotion) -

e.g.

migration a VM's cache content from one server to another when the VM is vMotioned.




Support for VMDK, RDM, and direct iSCSI disks.

Up to 2 TB of cache per server. Up to 32 cached VMs per server, with no limit on the total

number of VMs.

Support for PCIe cards (must be listed in the NetApp Interoperability Matrix) and server SSDs
Management of Flash Accel components using Virtual Storage Console (article about it here)
free for NetApp customers 😉
Flash Accel has the following components:
Flash Accel Host Agent - software which manages caching functionality on ESXi hosts. The host agent is installed on each ESXi host with an installed flash device.

Flash Accel Guest OS Agent - software which manages caching functionality on virtualmachines. The Agent need to be installed  on each VM running an application that accesses the cache.
Flash Accel Management Console (FMC) - browser-based graphical tool used for installation the host and virtual machine software and management caching across the vCenter. This is a virtual appliance (deployed from OVA).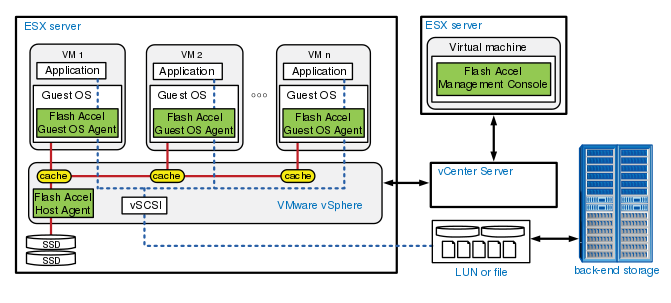 Flash Accel components
Note: The last download of Flash Accel is March 25, 2014, and the last support date is September 23, 2014.