Yesterday (3rd February) EMC announced the GA of VSPEX Blue. This is a hyper-converged infrastructure appliance (like Nutanix) that uses a software-defined building block approach combining compute, storage, network and management components into a single solution.
EMC VSPEX BLUE runs the VMware EVO: RAIL software - which is built on:
VMware vSphere,
VMware vCenter Server,
VMware Virtual SAN (VSAN),
VMware Log Insight.
EMC added various additional solutions:
In this post I will shorty describe the last three solutions because VDP-A and EMC Recover Point for VM are covered in my another posts.
EMC CloudArray gateway
EMC CloudArray gateway extends EMC VSPEX BLUE with scalable cloud storage offered by third party cloud providers. It provides the following features:
Up to 10 TB free with VSPEX BLUE
It supports block (iSCSI) or NAS protcols (NFS/CIFS) as an external offsite store
Encryption, bandwidth throttling and data compression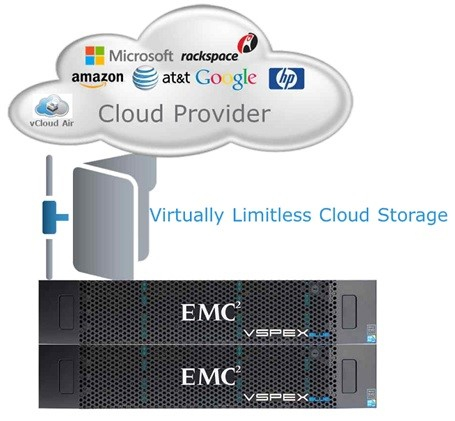 EMC CloudArray can be used for example for offsite backup, disaster recovery or just primary storage expansion. With dynamic disk cache (1TB), CloudArray eliminates latency and maintains performance with minimal network impact.
EMC VSPEX BLUE management software and EMC Secure Remote Service

The EMC VSPEX BLUE Manager is used for management of all solutions.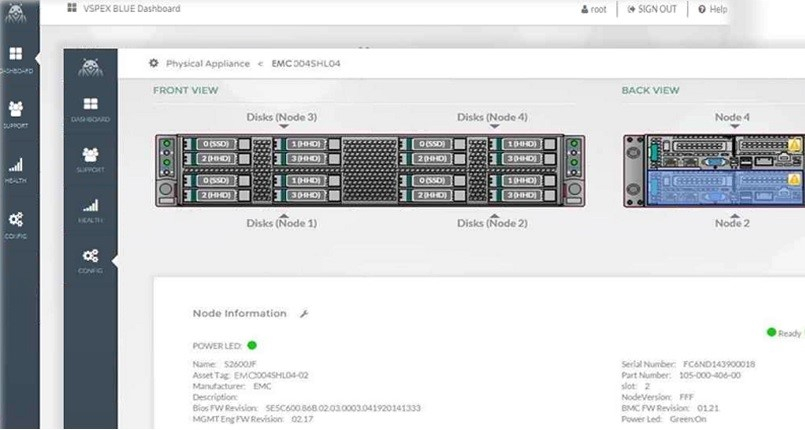 The EMC VSPEX BLUE Manager provides integrated into VMware EVO:Rail Management Dashboard, EMC Support (e.g. Online Chat :)), Maintenance and Upgrades of appliance and VXPEX BLUE Market which is an access to the qualified software (download VDP-A, RecoverPoint for VMs etc):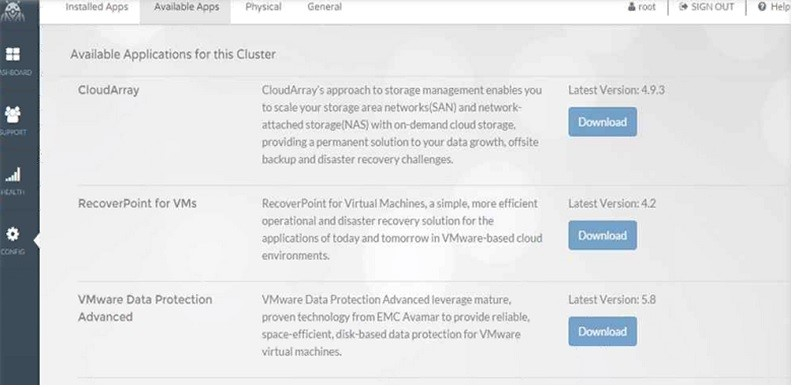 EMC Secure Remote Services (ESRS) enables EMC Customer Service to proactively identify and resolve potential issues before they can impact your operations.
EMC VSPEX BLUE Hardware
Each EMC VSPEX BLUE appliance is a 2U with 4 ESXi installed node server. You can add a total of four  VSPEX BLUE appliances to achieve 16 ESXi nodes.
There are available two configurations to choose:
Each appliance has four independent nodes consisting of:
2 x Intel Dual Intel Ivy Bridge E5-2620 V2 (12 cores, 2.1 Ghz)
8 x 16GB (128GB) , 1666MHz DIMMS Memory
3 x 1.2TB 2.5" 10K RPM SASHDD
1 x 400GB 2.5" SAS SSD (VSAN Cache)
1 x 32GB SLC SATADOM  (ESXi Boot Image)
2 x 10GBE BaseT or SFP+
VSPEX BLUE PERFORMANCE NODE
Each appliance has four independent nodes consisting of:
2 x Intel Dual Intel Ivy Bridge E5-2620 V2 (12 cores, 2.1 Ghz)
6 x 32GB (192GB) , 1333MHz DIMMS Memory
3 x 1.2TB 2.5" 10K RPM SASHDD
1 x 400GB 2.5" SAS SSD (VSAN Cache)
1 x 32GB SLC SATADOM  (ESXi Boot Image)
2 x 10GBE BaseT or SFP+