Some months ago I wrote a post how to move vCenter properly from physical to virtual machine. It was not possible to migrate vCenter installed on Windows to vCenter Appliance (Linux). As you can find in my another post here, the vCenter Appliance supports and provides almost the same features as vCenter Server installed on Windows.
Fortunately. today (2nd March), VMware LABS released a converter which allows customers to migrate from Windows vCenter Server with an External Microsoft SQL Server Database to the vCenter Server Appliance with an embedded vPostgres database!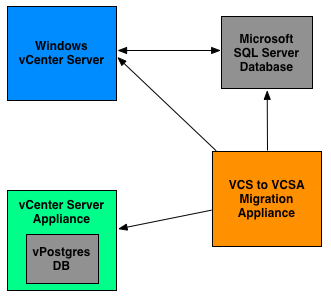 The converter migrates the vCenter database, roles, permissions, privileges, certificates and inventory service. The target appliance will run at the same IP address as the source vCenter.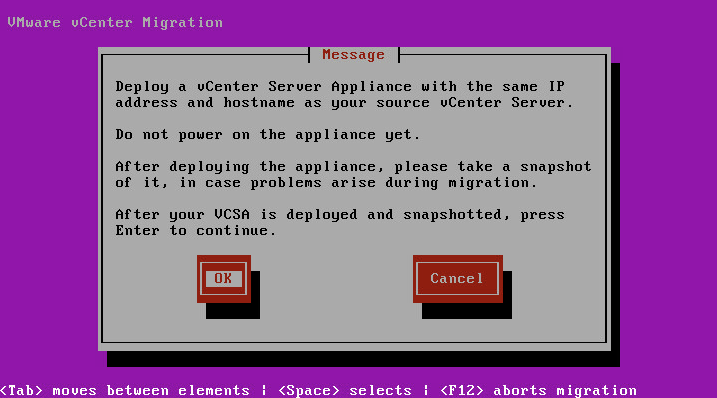 There are some requirements are as follows:
vCenter Server running on Windows - vSphere 5.5 or greater
The Windows vCenter Server and the vCenter Server Appliance should be running the same version (e.g. vCenter Server Windows 5.5u1 to VCSA 5.5u1)
The vCenter Server Appliance should be deployed with at least the same number of CPUs and at least the same amount of memory as the Windows vCenter Server host
vCenter Components (Inventory Service, vSphere Web Client and VMware Single Sign On) must be running on the same host as the vCenter Server
External Microsoft SQL Server 2008R2 or later for the vCenter Database (VCDB)
vSphere Web Client Plugins connected registered with an Active Directory user
VMware Single Sign On User/Groups are currently not migrated (require re-registration)
Migration Appliance must be able to communicate with the Windows vCenter Server Database and its database as well as the new vCenter Server Appliance. The following ports are used for this communication and should be open on the vCenter Windows server and on the VCSA:  22 (ssh), 443 (https), 445 (SMB)
There are some limitations as follows:
Microsoft SQL Server and vCenter Server must be on separate hosts
Microsoft SQL Express Database is not supported in version 0.9
VMware Single Sign On Users and Groups are not migrated in version 0.9
Windows Local Users and Groups are not migrated in version 0.9
vCenter Alarm action scripts are not migrated in version 0.9
The migration will require some downtime for the vCenter Server
Linked Mode configuration is not migrated. Multiple vCenters must be migrated separately
Any VMware or 3rd party vSphere Web Client plug-ins (e.g. VUM, NSX) that are running on the same host as the vCenter Server will not be migrated
For Instructions (step by step) how to perform the migration, please follow: https://labs.vmware.com/flings/vcs-to-vcva-converter You can find there the converter (OVA template) and instructions (docx).
It's time to migrate to the vCenter Appliance!