Some weeks ago VMware released NSX version 6.4 which introduced an Upgrade Coordinator - a single portal to simplify the planning and execution of an NSX upgrade. We should expect further steps to make our engineer's life easier 😉 and some days ago vSphere 6.7 and Site Recovery Manager 8.1 (SRM) was released. Both products came with features to make upgrades easier as well. The first one introduced vSphere Quick Boot that restarts the ESXi hypervisor without rebooting the physical host so no more waiting for server's initialization (as my friend says, we don't have to wait until hardware's Linux is ready). Quarterly patching of ESXi hosts should be faster. In addition to that, vSphere 6.7 eliminates two reboots during major version upgrades.
Site Recovery Manager 8.1 introduces backward compatibility with previous versions of vCenter and vSphere. At last, it is not required to perform an upgrade of vCenter in both sites at the same time. For example, SRM 8.1 can be installed with vCenter 6.0U3, 6.5, 6.5U1 or 6.7.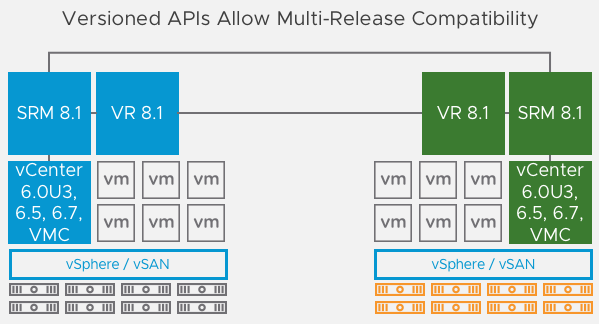 Upgrades from an older version of SRM is also simplified. For example, a direct upgrade from SRM 6.1 to 8.1. Please make sure to follow the Compatibility Matrices for VMware Site Recovery Manager 8.1. vSphere Replication Appliance OS is based on Photon! However, unfortunately, still, Site Recovery Manager has to be installed on Windows. I hope that it will be changed very soon...
and the last very important: SRM 8.1 introduced HTML 5 interface and vSphere 6.7 added next functionalities to it. Many update/upgrade tasks are done via the web so a fast and functional interface is also very important to do them quickly 😉
Useful links
Site Recovery Manager Architecture