Zerto founded in 2009 is a company that I faced the first time around 2012. The company is known because of their Zerto IT Resilience Platform which providing disaster recovery, data protection for virtual and cloud environments. It allows protecting workloads across various hypervisors e.g. VMware vSphere and Microsoft Hyper-V.
If you are not familiar with Zerto - some key things:
Zerto is based on VM block-level replication with no snapshots. There is a Virtual Replication Appliance (VRA) on each host.
Zerto is managed by Zerto Virtual Manager paired 1:1 with vCenter.
RTO, RPO seconds.
Simultaneously replicate VMs locally, to multiple remote sites and public or managed clouds.
Zerto can replicate source RDMs (Raw Device Mappings) to target VMDKs and source VMDKs to target RDMs
Application Consistency based on Virtual Protection Group (VPG).
Orchestration and Automation with Non-Disruptive Testing - for example boot order, network configuration, and optional re-IP.
Continuous data protection based on checkpoints.
Last week Zerto released the latest version - 8.0 with some interesting features and enhancements.
Zerto 8.0 features and improvements
Continuous Data Protection (CDP) to Google Cloud.
Improved security between Zerto components - ZVM to ZVM and ZVM to VRA Encryption.
Adding VMware vVols storage integration next to any supported types of datastores earlier (including FC, FCoE, iSCSI, NAS, and DAS).
Supports vCloud Director10 and Microsoft SCVMM 2019 and Hyper-V 2019.
Insights through data protection reporting and capacity management.
Cloud backup with AWS Storage Gateway.
VMware Virtual Cloud Director (vCD) self-service recovery portal for DRaaS.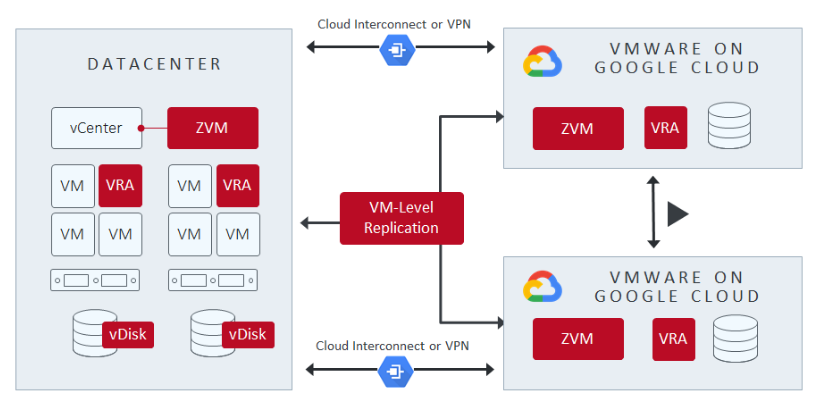 Summary
Definitely, Zerto as a platform-agnostic solution allows building Hybrid Cloud and Multi-Cloud based on various technology VMware, Hyper-V, IBM Cloud, AWS, Azure and with Zerto 8.0 - VMware on Google Cloud. Based on my recent experience with a product (version 6.0-7.5) during disaster recovery projects for my customers:
Well designed HTML 5 UI with useful analytics.
Automatic non-disruptive test failovers.
Simple and straightforward update or upgrade process of Zerto components.
Powerful checkpoints to access data (file-level restore available) in the specific point of time.
A quick method to migrate workloads between sites or just various platform versions!
I'm looking forward to playing with the latest version in Zerto's hands-of-lab!
Useful links
vVols - a new feature introduced with vSphere 6.0
Zerto Product Vision and Roadmap on TFD21: