This post covers Fault Tolerance (FT) improvements available in vSphere 6. I am so happy that at last Fault Tolerance (vSMP supported) can be used to protect the business critical systems. Just for a quick reminder what are limitations of Fault Tolerance available in vSphere 4.0-5.5:
Only 1 vCPU per FT virtual machine.
Shared storage required.
Host CPU's must be VMware FT capable and belong to the same processor model family. (+-400Mhz)
All ESX hosts in te VMware HA cluster have identical ESX versions and patch levels.
Virtual machines must be stored in virtual RDM or virtual machine disk (VMDK) files that are thick provisioned.
Are you a VMware newbie? No problem, please follow my post about Business Continuity provided by native VMware features.
So what's going to be changed in Fault Tolerance in vSphere 6? A lot and also very important features are as follow:
Up to 4 vCPUs (vSMP) and 64GB RAM VM.
Fast Check-Pointing has replaced the "Record-Replay".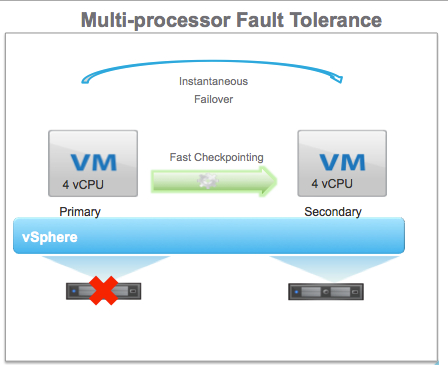 Supports all Virtual Disk Type like Thick or Thin Provisioned.
Backup support with snapshots through VADP such NetBackup or vSphere Data Protection.
Supports vMotion of both Primary and Secondary Virtual Machine.
Storage redundancy such VDDK copies on separate datastores.

Para Virtualisation Devices are supported.
Max 4 Protected VMs or 8 vCPU per ESXi host (it depends on which reaches first)

Ok, we have discussed new features of Fault Tolerance in vSphere 6. What about requirements? There are as follow:
10GB Network link for Fault Tolerance must be used
All machines protected are on a host running the same version of vSphere.
Dedicated virtual network VMkernel portgroups must be configured for FT logging.
10-30% network overhead increase
As a conclusion, please follow Fault Tolerance comparison available in vSphere 5.5 and vSphere 6:

At last, VMware provides a really good feature with RPO ~0 and RTO ~0 to be used for protection of Business Critical Systems (>1vCPU).