This week, during VMworld in Barcelona, vSphere 6.5 was announced with cool features which most of them I could test during beta, however now I can write about it.
vCenter Appliance redesigned and highly available with VUM integrated
vSphere 6.5 provides a lot of new things of vCenter Appliance. At first, VCSA 6.5 runs on VMware Photon OS. This is a minimal Linux container host, optimized to run on VMware platforms. I hope that this OS will simplify patching or doing maintenance of VCSA. The second, in my opinion, the most important feature: using native sync replication we can build an Active-Passive cluster with a witness. Similar to clustered vCenter on Windows, two networks are required: public and private. Everybody knows that vCenter is a heart of VMware infrastructure and there could be big impact on some solutions when vCenter is down.
VMware Update Manager (VUM) is already integrated into VCSA. One reason less to have a windows machine, however still if SRM is used, we have to find a Windows VM (two!) for it 🙂 I hope that VMware will change it in a near future 😉

The third, built-in backup/restore of VCSA and also already included migration option from vCenter Server for Windows to a vCenter Server Appliance.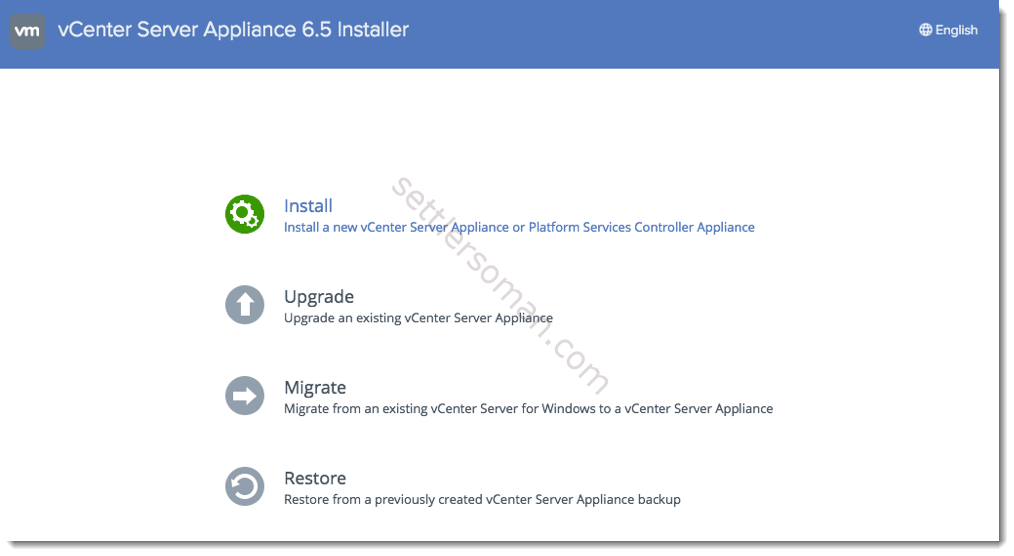 vSphere Web Client based on HTML 5 is supported as well. If you still do not use this client, you should download it as it works on vSphere 6.0 as well and is updated  every week.
VM Encryption and encypted VMotion
At least, we can encrypt VMs. Encryption is based on VMware's Storage Policy Based Management. VMotion also can be encrypted per VM.

VSAN 6.5 - iSCSI support and 2-node Direct Connect and Witness traffic separation
Virtual SAN 6.5 supports the use of network crossover cables in 2-node configurations - perfect for ROBO where we would like to avoid buying 10Gbit switches. Maybe VMware heard my voice because I will able to build a small 2-node management cluster on VSAN 🙂
Really cool, that since version of vSphere 6.5, we can create iSCSI Targets and LUNs on VSAN and connect it to physical world such as Microsoft clusters. Hmm, are VMware and Microsoft going to support Hyper-V 2016? 😉
VVOls improvements
VVOLs were introduced in vSphere 6.0. vSphere 6.5 introduced VASA 3.0 and VVOLs native replication by array. Really cool as we can replicate only one VM or certainly group of VMs! I've played with VVOL on NetApp and I've been waiting when VVOL replication will be supported on those arrays.
vSphere Integrated Containers and Docker Volume Driver for vSphere
As I already wrote, containers are the next step in our data centers providing simplified configuration, portability,  rapid development and more. vSphere Integrated Containers allow admins to create and manage container inside VMs - everything from one GUI - web client.
Docker is a leader of container technology and introducing a driver for vSphere compatible storage using VMFS, NFS, and Virtual SAN is a good step done by VMware.
VMware HA and DRS improvements

vSphere 6.5 introduces some cool features in VMware HA:
HA Orchestrated Restart
Orchestrated restart allows admins to create dependency between VMs. Currently we can configure only priority of restart, however we can not be sure that the most important VMs are really "available" first. vSphere 6.5 addresses it and introduces VM state when another one should be restarted:
Resource allocated
Powered on
Guest Heartbeat detected
App Heartbeat detected
Proactive HA
This is a nice feature - done by DRS. vSphere 6.5 introduces some additional responses to different types of hardware failures (based on sensors as fans, network cards etc. ) When a host condition is not correct, DRS proactively can vMotion virtual machines off of the host prior to the host failing.
Network-aware DRS
Using network utilization metrics, DRS can choose the best host (network is not saturated) for VMs.
For great summary, please follow Eric Sieber's post.
My thoughts
VMware did a great job. vSphere 6.5 introduces a lot of and long awaited features and improvements. Still many of my customers haven't upgraded their infrastructure to 6.0 and going directly to 6.5.x is a good step. Migration from vCenter Windows to VCSA, built in backup/restore and HA of VCSA and of course supported Web Client based on HTML 5 (because fling is not supported and recommended in production) are great reasons to perform an upgrade.