Nowadays, disaster recovery is an important thing in every company. Heterogeneous environments and applications based on virtual, physical or cloud components bring an additional opportunity to create a disaster recovery plan (DRP) for them.
A few years ago I heard about Veritas Resiliency Platform (VRP) which helps to address this challenge. I decided to check on how this product strategy envolves and helps business application owners to provide DRP by complete automation for all resiliency operations such as recovery run books.
Overview of Veritas Resiliency Platform
VRP helps to maintain business uptime across private, public, and hybrid clouds. It provides a solution named Resiliency Platform Data Mover to replicate data or use third-party such as NetApp Snap Mirror, EMC Recover Point and more. It supports VMware and Hyper-V and recovery of VMs to Azure, AWS or vCloud Director. Additionally NetBackup Auto Image Replication and InfoScale can be involved in the DR process.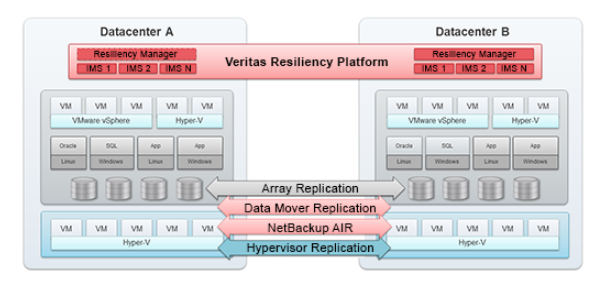 Architecture Overview
The key components are:
Resiliency Manager - deployed as a virtual appliance is responsible for the discovery and managing information about data center assets.
Infrastructure Management Server (IMS) - discovers and monitors assets (hosts, storage arrays) within a data center. It connects only to one Resiliency Manager.
Replication Gateways - required when Resiliency Platform Data Mover is used for replication of data. It aggregates and batches data from multiple virtual machines during replication and performs data optimization (deduplication, compression).
Data Gateway - an appliance deployed in AWS if migration/replication to object storage is required.
How exactly does VRP help?
At first, related assets are organized into resiliency groups (RG) to be managed and monitored as a single entity. Created RG are arranged into as tiers which represent logical dependencies between resiliency groups. Multi-tier service is named virtual business service (VBS) which groups multiple services as a single unit for visualisation, automation and recovery in the desired order. VRP provides non-impact testing (rehearsal) based on snapshots. Sounds like solution VMware Site Recovery Manager or Zerto, however, VRP supports SQL or Oracle. Any additional application can be taken care via custom scripts.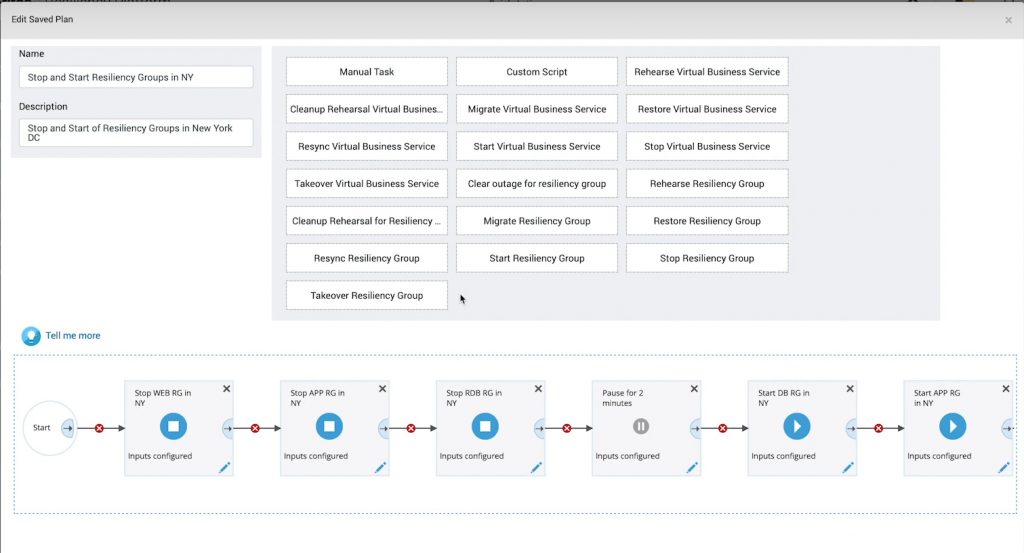 Summary
Definitely, from a business perspective, VRP helps to reduce the risk of downtime from human error and simplifies a recovery process. However, from a technical perspective, VRP supports a specific version of VMware, Hyper-V or storage array. It adds an additional layer to be taken into consideration when there is a modification required in the environment e.g. upgrades.
Useful resources
Veritas presented Resiliency Platform at Cloud Field Day 4.