Last week, I attended at the NetBackup 5330 Appliance Deployment Training in Reading, UK, During this training I could play with NetBackup 5330 Appliance and I can admit that I'm impressed with NetBackup 5330 Appliance because of capacity, performance and security.
NetBackup 5330 Appliance provides the following software "onboard":
Symantec Appliance Operating System (based on Suse 11 SP1)
NetBackup Software (currently 2.6.1.1)
Symantec Storage Foundation
Symantec Critical System Protection
NetBackup 5330 Server Hardware and I/O Connections are as follows:
2x Intel Xeon 2690 v2 Processors (10 cores each)
384 GB Memory (24x 16 GB DIMM, DDR3-1600)
Up to ~229TB Storage Capacity (Primary storage shelf (required); expansion storage shelf (optional))
4x 1Gb Ethernet Ports
1x 1Gb IPMI Port
Up to 10x 10GbE Ethernet Ports (Depends on configuration choice; rear of 5330 server, 2x 10BbE onboard)
Up to 8x 8Gb Fibre Channel Ports
3x USB Ports
2x Power Supplies (Hot-swappable and redundant)
4x SAS Ports (Rear of storage shelf; expansion shelf connectivity)
NetBackup 5330 Storage Shelf Overview:
Primary/expansion storage shelves have identical storage configuration
60 drives per shelf; 3 TB per drive
5 drawers; 12 drives per drawer
~115 TB storage capacity per shelf
~229 TB total capacity possible
Primary storage shelf is required and connected to 5330 server via FC cabling. Expansion storage shelf is optional and connected to primary storage shelf via SAS cabling.
As mentioned earlier, NetBackup Appliance 5330 is supplied with one or two shelves with 60 drives in each shelf. The self provides the following configuration:
6 Data Volumes (RAID 6: 7+2 drives)
1 MSDP Catalog Volume (RAID 10: 4 drives)
2 Global Hot Spares
NetBackup 5230/5330 Comparison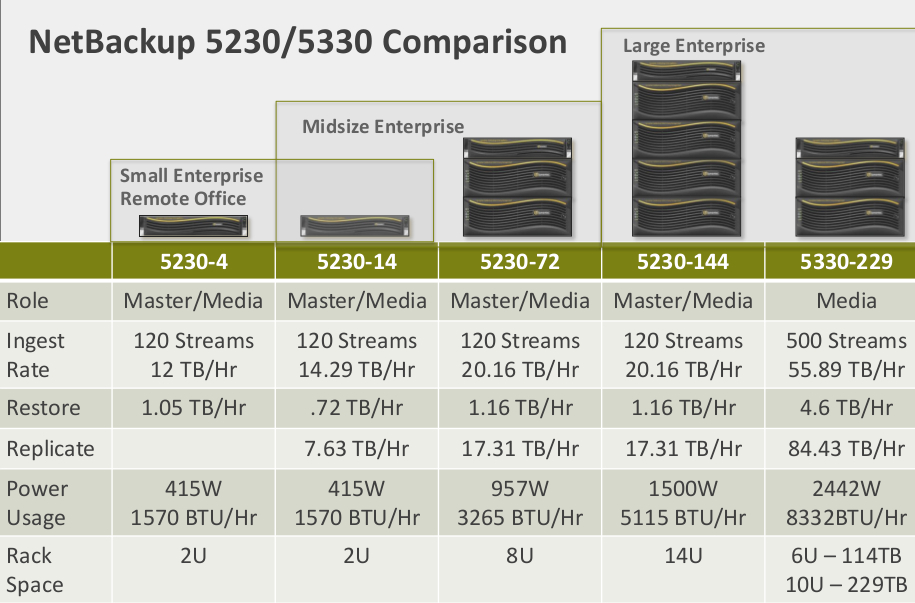 As you can notice on the above figure, the NetBackup 5330 expands to up to 229 TB of capacity vs. 148 TB (144+4) for the previous NetBackup 5230 model. Probably 5330 capacity will be doubled in this year!
Please be mind that NetBackup Appliance 5330 can be used as a Media Server only. It means that still you need to buy NetBackup appliance 5230 or use physical/virtual machine with NBU Master Server installed. I recommend to use a virtual machine because of Master Server Disaster Recovery possiblities that I mentioned here.
Does the Symantec NetBackup 5330 give Symantec a way to challenge market leader EMC Data Domain? In my opinion, YES!
Update: Some great videos are available here.