NetBackup Accelerator is a powerful feature introduced in NetBackup 7.5 for files. Since NetBackup 7.6 we can use this feature to backup virtual machine in VMware environment and since NetBackup 7.7.1 to backup NetApp Filers via NDMP. Just for a quick reminder on what NetBackup Accelerator is - it provides full backups for the cost of an incremental backup.
There are two important points that we should take into considerations before implementing Accelerator in the production.
Changing incremental backup to full?
Moving track logs to different location?
Using Accelerator even it does not support policy type?
NetBackup Accelerator and Catalog size
Recently, one of my customer asked me why their NetBackup Catalog started to grow after implementing Accelerator for some policies (Windows and VMware types). I'm going to answer for this tricky question in this post 😉
At first we should recollect how the image database depends on backup policies - the numbers of files being backed up and the frequency/retention period of the backups determine the size of Catalog. So what's about Accelerator? The answer is: this feature does not affect the size of the NetBackup Catalog - at least directly...because you can realize that if Accelerator performs full backup in the speed of incremental, why to use incremental? The answer is: to not have a bigger NetBackup Catalog 🙂 Of course, we can change all incremental schedulers to full in a backup policy and use a power of Accelerator. However, as we could have only full backups (all files are "cataloged") the Catalog could grow rapidly.
I prefer to limit the catalog size (faster backup/restore or maintain/administer) so I recommend to not change incrementals to fulls. However, if you are concerned about the catalog growth, keeping fulls only may simplify backup policies 🙂
NetBackup Accelerator Track Log
Track log is a file where NetBackup writes information about changed files. Depending on the Client system, the track log can be kept on Master, Media or Client. I recommend to move/redirect it to different location. Keeping it on default location (e.g. System Disk C:) is not a good configuration. There is also an option in a scheduler to "reset" the track log. I recommend to create a schedule with the Accelerator forced rescan option (e.g. once a month).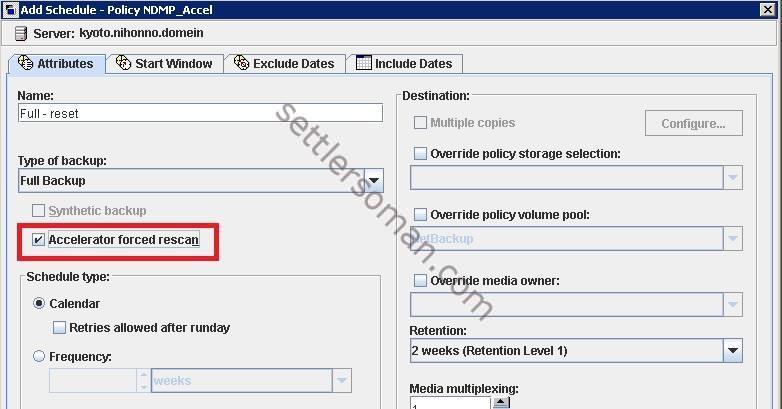 NetBackup Accelerator for different policy types
As I mentioned in the beginning of this post, currently NetBackup Accelerator is supported for the following types of policies:
Windows
Standard
VMware
NDMP (for NetApp Filers)
Even Accelerator does not support others types, it is possible to do backup e.g. other NAS  using a Windows/Standard policy -  using CIFS/NFS share. You specify UNC path as a backup selection. The first backup may take longer than a normal NDMP backup but after it works really fast. Sometimes it may be better to not use dedicated NetBackup agent to backup data. For example, recently I changed a Enterprise Vault policy to not use NetBackup agent for Enterprise Vault to backup indexes. Depending on type of level (brief or full) indexes may require 4% or 13% the overall size of all your archived data so size of indexes can be really big. NetBackup agent for this types of Enterprise Vault data does not do anything special so why to not use Accelerator to perform full backups faster? I just changed the policy type from Enterprise Vault to Windows and change the backup selection. Still testing but it works pretty well 🙂
Conclusion
NetBackup Accelerator is a nice feature with some requirements (e.g. supported de-duplication storage). I can't wait when Microsoft Hyper-V will be supported and other types of policies.