VMware recently released VMware Data Protection 5.8 with following features:
Support the backup and recovery of databases on SQL Server AlwaysOn and Failover Clusters
Exchange DAG support (also "prefer passive")
VMware Data Protection Advanced supports VDP Replication Target (VDP-RT) - a fully licensed VDP Advanced virtual appliance can replicate backup data to a VDP Replication Target virtual appliance with no additional charge (there is no longer a need to download and install the "replication target only" license as required with VDP 5.5.)
"Replicate and Restore Anywhere" - Replicated backup data can be re-replicated – either back to the source location or another location (cascade replication).
Improved reporting
Deployment VDP 5.8
Deployment and installation of VMware Data Protection 5.8 is similar to VMware Data Protection 5.5. There is a one diffrence available during deployment: VDP Replication Target, as shown in the screen shot below.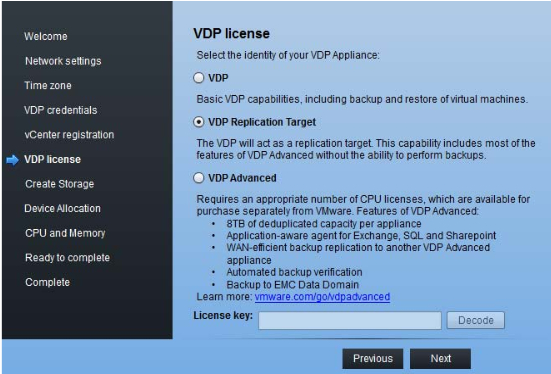 Upgrade to VDP 5.8
To upgrade VDP 5.5.7 to 5.8 please follow steps:
Turn off VDP 5.5.
The virtual disks used by the vSphere Data Protection appliance are set to be "Independent – Persistent." To take a snapshot, the disks will have to be temporarily changed to "Dependent." . Just unselect "Independent - Persistent" on Hard disk 2 - 4:
Take a snapshot. (if you do not take a snapshot, you will receive a message like this during upgrade:
Mount the vSphereDataProtection-5.8 Upgrade ISO to the VDP 5.5 appliance. Power on appliance.If you do not mount iso and boot VDP correctly, you will see below problem:
Login to the vSphere Data Protection Configuration Utility web portal at https://ip_address:5840/vdp-configure.
Navigate to the Upgrade Tab and the latest upgrade will be available for review.
The Virtual Appliance will be Powered Off after upgrade. Please power it on through the vSphere Client. Run test restore/backup.
Shutdown VDP appliance. Unmount ISO file, Delete snapshot. Re-enable Independent - Persistent disks (starting from Hard Disk 2).
Note: The vSphere (web) client still displays old version of VDP (5.5.7). It is a normal behavior and you should change summary of VDP appliance manually.