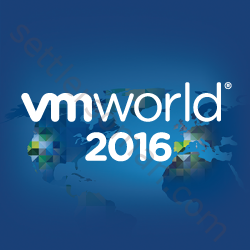 I would like to inform that as an official blogger I will have a pleasure to attend at VMworld US this year. I have chosen the following sessions:
Sunday:
Security Concepts in the Software Defined Data Center Workshop [ELW-1706-SDC-3]
vRealize Automation 7 Advanced Workshop [ELW-1721-USE-2]
vRealize Operations and vRealize Log Insight: Ensure Performance and Availability Workshop [ELW-1701-USE-3]
Monday:
VMware NSX—Deep Dive [NET9152]
Advanced Troubleshooting for NSX [NET10009-EDU]

Automated Deployment and Configuration of the vCenter Server Appliance [INF8260]

VSAN Networking Deep Dive and Best Practices [STO8165R]

VMware NSX Distributed Firewall with Micro-Segmentation Workshop [ELW-1703-USE-2]

A Day in the Life of a VSAN I/O [STO7875]
Tuesday:
Understanding the Availability Features of Virtual SAN [STO8179R]
Successful Virtual SAN 6 Stretched Clusters [STO7557]
How to Deploy VMware NSX with Cisco Infrastructure [NET8364R]
Troubleshooting Tips for vSphere 6 [INF10005-EDU]
vSphere 6.x Host Resource Deep Dive [INF8430]
vSphere Encryption Deep Dive: Technology Preview [INF8856]
Wednesday:
vRealize Automation and NSX Design Best Practices [NET7956]

Architecting NSX with Business Critical Applications for Security, Automation and Business Continuity [VIRT7575]
vSphere DRS Deep Dive: Understanding the Best Practices, Advanced Concepts, and Future Direction of DRS [INF7827]
vSphere Identity: Multifactor Authentication Deep Dive [INF8858]

File Services on Virtual SAN [STO9423]
Thursday:
VMware NSX Advanced Consumption Workshop [ELW-1725-SDC-1]
Maximizing Your Remote Site Infrastructure with vSphere and Virtual SAN [INF8383]
I will focus on NSX & VSAN. Please stay tuned as posts about above sessions will be published!